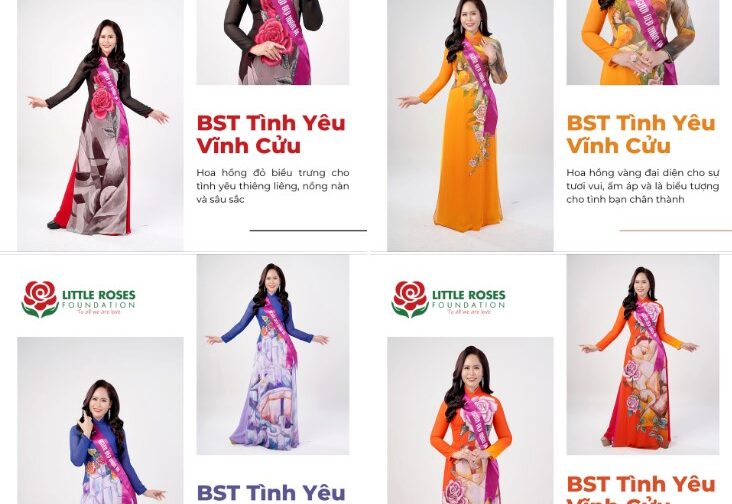 22 February, 2023
By admin
DESIGNER SI HOANG AND BEAUTY LAI THI HAI LY ACCOMPANY LITTLE ROSES FOUNDATION IN THE MISSION OF LOVE
A well-known domestic and international designer, Si Hoang, established the Ao Dai brand, which honors the body and beauty of numerous first ladies, by imbuing it with Vietnamese spirit. At the Little Roses Foundation launching ceremony, he dedicated the collection of Ao Dai, namely the Eternal Love to the Foundation. Using roses as the primary motif, the designer rendered every intricate element of the Ao Dai with smooth lines to represent pure, sacred, and noble love.
'Merciful Beauty' Lai Thi Hai Ly's heart has been touched by this unique and profound collection. Mrs. Hai Ly donated 120 million VND to the Foundation and received the Eternal Love collection by designer Si Hoang at the Little Rose Foundation launching ceremony on October 1, 2022, in order to have the unique features, simple imprints, and manners of traditional Vietnamese women when attending international events.
Little Roses Foundation would like to thank the two outstanding benefactors on behalf of the disadvantaged for their generous support for the Foundation, which allows us to carry out practical activities and assist those in tough situations.
Little Roses Foundation looks forward to accepting the companionship and support of additional philanthropists so that we can undertake more beneficial community projects.
#LittleRosesFoundation#LRF#Toallwearelove